The title says it all, coyote hunting. >.<
Why do people dare kill these beautiful creatures? I mean, yes, I understand its legal in some areas, but who would want to kill these animals? Do you like wolves? Yes, I do. Think of coyotes as wolves. They kind of go through the same thing wolves go through. Hunting, just for the skin! Or maybe just for the fun of it! I love coyotes. And I love all animals, I like squid. C: Have a problem? Go complain to Mr. I don't care. Anyways, sorry for getting off-topic... Some people may kill coyotes cause they just want them to go extinct. And guess what. When people go coyote hunting, they take out they're DOGS.
If you look closely at this picture, you can see drips of blood.. :c
And this person is actually PROUD he killed a coyote..
And guess what dogs are related to? You guessed it. Coyotes. So that's basically saying your killing your own cousin by force. Yes, I think the dogs are being FORCED to kill coyotes.
Or when they don't use dogs, they use rifles.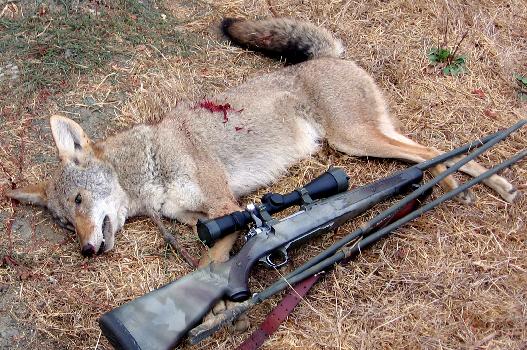 Tisk tisk, when will humans ever learn? Honestly, I hate how humans are just killing these animals just for the fun of it. What's the point of coyote hunting? And your going to say fur? Excuse me. We have "fur." Go check on your head :l Try shaving your hair off and make a coat out of it. See how it feels. When you kill coyotes, they feel much pain. And believe me, I won't take "Clothing" or "Furniture" for an excuse. Please stop killing these animals, once I show you some pictures of coyotes, you'll truly find out how beautiful these creatures are. And, if you know anyone who hunts coyotes or anything, don't just stand there! Stop them, explain to them the beauty of nature.
Now look at these beautiful creatures
And if you don't think that's cute, look at this!
See look how cute <3
Now look at them when they're killed...
Look, I mean I can understand like maybe one coyote, but THIS MANY? And just for showing off!
:C Look! so horrible.. And there were really nasty/bloody pictures.. I just didn't show them..
Please help coyotes, it would be great if you did~
~Axewlove